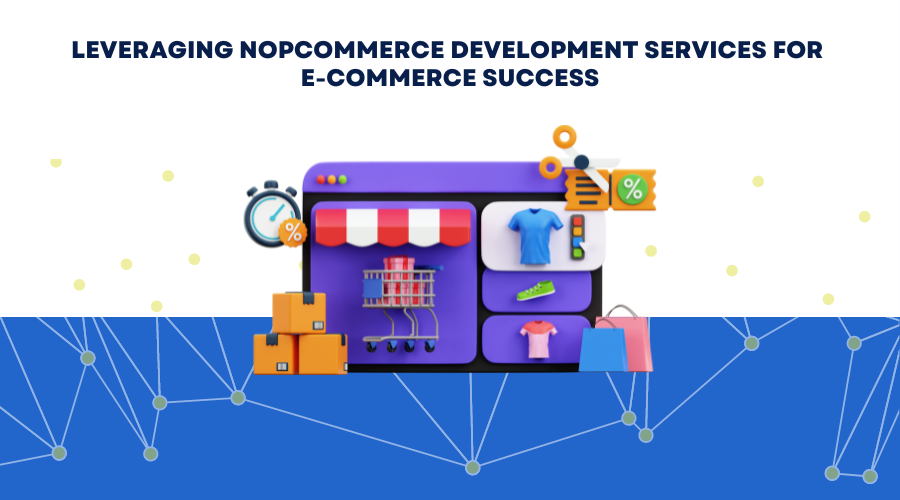 In the dynamic world of e-commerce, keeping pace with ever-evolving technology and customer preferences is crucial. The secret sauce of successful online business is not just about having a digital storefront; it's about providing a seamless and captivating shopping experience. To that end, choosing the right platform to build your e-commerce store can be a decisive factor, and nopCommerce is one of the leading choices. As a development company that specializes in nopCommerce development services, we are here to make that choice easier for you.
nopCommerce: A Brief Introduction
nopCommerce is a powerful, open-source e-commerce solution based on Microsoft's ASP.NET Core framework and MS SQL Server 2012 (or higher) backend database. This platform is equipped with a comprehensive feature set, facilitating the creation of any e-commerce project, from small online stores to massive virtual shopping malls. It's scalable, secure, and customizable, providing an excellent foundation for your online business.
nopCommerce Development Services: A One-Stop Solution
Our nopCommerce development services offer a comprehensive suite of solutions to build, enhance, and maintain your e-commerce store. We are equipped with a team of certified professionals who are proficient in ASP.NET, MS SQL, and related technologies to deliver top-notch e-commerce solutions. Our services are designed to help businesses transform their e-commerce vision into reality, taking care of all aspects - from design and development to deployment and maintenance.
nopCommerce Customization
nopCommerce, with its pluggable modular/layered architecture, allows for unparalleled customization. Our team can tailor the platform to perfectly match your business needs and aesthetic preferences. From theme design to functionality tweaks, our customization service is all about creating an e-commerce store that is uniquely yours.
nopCommerce Plugin Development
Plugins are a fantastic way to extend the functionalities of your nopCommerce store. Our developers are experts at creating high-performance plugins that add value to your e-commerce business. Whether it's a payment gateway integration or a unique marketing tool, we can develop custom plugins to meet your specific requirements.
nopCommerce Upgrade and Migration
Keeping your e-commerce platform updated is vital for maintaining security and performance. We offer nopCommerce upgrade services to help you transition smoothly to the latest versions. If you're looking to migrate from another platform to nopCommerce, our team can ensure a seamless transition with minimal downtime.
nopCommerce Maintenance and Support
Your e-commerce journey doesn't end with the launch of your online store. We provide ongoing maintenance and support services to ensure that your nopCommerce store is always up and running, providing an excellent shopping experience to your customers.
Our Approach to nopCommerce Development
Understanding the Client's Needs: Before we start coding, we spend time understanding your business goals, target audience, and unique selling propositions. This helps us create an e-commerce solution that aligns perfectly with your business needs.
Designing the User Experience: User experience is at the heart of any successful e-commerce store. Our design team creates intuitive and appealing designs that engage customers and enhance their shopping experience.
Development and Testing: Our nopCommerce developers build the e-commerce store using best coding practices. We follow agile development methodologies to ensure rapid delivery without compromising on quality. Before deployment, our QA team thoroughly tests the store to ensure a bug-free shopping experience.
Deployment and Support: We ensure a smooth deployment of your nopCommerce store and provide comprehensive post-deployment support. This includes performance monitoring, troubleshooting, regular updates, and more.
Why Choose Us for nopCommerce Development Services?
Expertise: We have a team of skilled developers with expertise in nopCommerce and related technologies like ASP.NET and MS SQL. They have successfully developed and delivered numerous nopCommerce projects of varying complexities.
Experience: With years of experience in e-commerce development, we understand the nuances of different industries. Our portfolio spans across sectors, which makes us a reliable partner for your e-commerce development project.
Customer-Centric Approach: We believe in building relationships, not just e-commerce stores. Our team works closely with clients to understand their requirements and provide solutions that bring tangible business results.
Timely Delivery: We understand the importance of time-to-market in the competitive e-commerce landscape. Our efficient project management ensures that your nopCommerce store is developed and delivered within the agreed timeframe.
End-to-End Solutions: From designing the UI/UX to maintaining the deployed store, we provide comprehensive nopCommerce development services. This means you can focus on your core business while we take care of your e-commerce needs.
In conclusion, nopCommerce development services can provide a solid foundation for your e-commerce business. With its comprehensive feature set and scalability, nopCommerce is a reliable choice for businesses of all sizes. Partnering with a proficient nopCommerce development company can help you leverage this platform's potential and steer your e-commerce business towards success. Connect with us today, and let's embark on the journey of e-commerce excellence together.